1987 Chevy Monte Carlo SS
MadMonte was purchaced in May of 2000, after many months of serching for just the right SS.I found er in a small farm town in NY a hour away from my home.The car was owned by a kid who after minutes of talking with I realized knew nothing about it, or any car for that matter.He was the second owner and luckily only drove it for a few months before getting DWI #2 and losing his license.He thought the car was "perfect", but after a short test drive I could tell that the tranny was very well abused.It happened that "farm boy" had a "hankering" for snowmobiles, so I ended up tradding him straight up for a Ski-Doo Mach Z that I had bought that last winter.Besides the tranny the car seamed pretty sound, so I was more than happy with the deal that was made.After a couple of days of registration and insurance "MadMonte" was on it's way HOME.

MadMonte after a few modifications
This picture was taken after I took out the blown up 305, and removed the pin stripes.
A surprise came up and MadMonte became Project Monte
Although I planned to drop a 350 into it after having the transmission rebuilt, after one month of driving it became apparent that the 305 that was in it was failing (fast), so the transmission went on hold and the procces of building a new engine began. MadMonte would be off the road till next summer.
MadMonte was in deserate need of some fresh paint and under coating under the hood.
After pulling out the engine I decided that the engine compartment could use some freshening up.I went to work with a wire brush and grinder to remove all the rust that the NY salt had produced on the frame and fire wall.After a freash coat of under coating and paint she looked good enough to put a new engine in.
Suspension could use a little upgrade also
After a short inspection of the suspension it was apparent that the springs and shocks had seen better days, and the brakes and control arms needed some attention as well.Removal of the brakes and control arms was suprisingly painless.After cleaning, and painting the brakes and control arms, and replacement of all ball joints, I went to work on choosing a spring/shock set up.Figuring that the installation of the 350 might be a little more than the oem springs could handle I went on line and found just the solution for my concerns.The installation of a Chevy S-10 spring would give me the extra duty for the 350 and provide a stock or 1 inch lower ride hieght for the front end.For completion of the suspension I decided to go with Monroe OEM gas shocks.Handling and ride should be as good as or better than new,can't wait to try er out.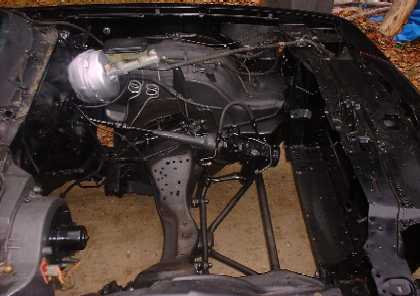 Engine compartment
Engine compartment totaly complete and ready for transplant. Hope the engine looks this good!